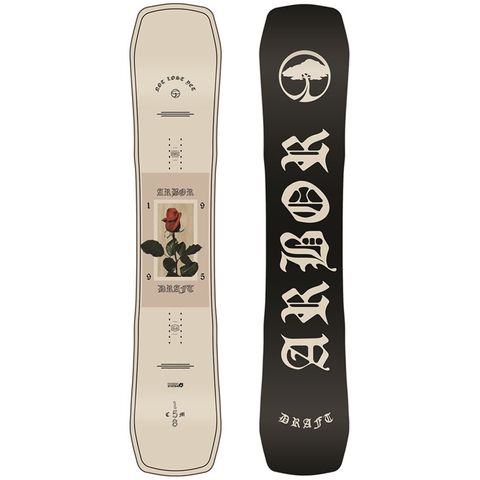 ARBOR 19 DRAFT
Stock Level:
In Stock
In Stock
Description
The Draft is our jib-specific, Rocker System design, now offered in a new shape designed for optimal spin, butter, and press performance. We've eliminated swing weight in the nose and tail so that 270 will come around even faster and with less effort than last year. A softer flex makes this the ideal freestyle-specific weapon for attacking the local park - on the mountain or in the city. The flathead tips provide increased surface area when popping and pressing, and a Single Malt core guarantees reliable return and long-lasting durability.
Hand Dyed Ash Power Ply Underlay
Single Malt Core - Our standard wood core for highly reliable return and lasting durability. Made from 100% sustainably grown Poplar wood.
Extruded Base - A tough, user-friendly extruded base that delivers lighter-weight performance
Biax Glassing - A biax over biax lay-up that's designed for park and street inspired all-mountain riding. Also creates a good platform for learning.
A 360 degree, fully wrapped sidewall that eliminates the need for tip fill, while effectively tying the whole snowboard together. A technology that delivers incredibly tight tolerances for improved board life and durability.
Flathead Tip Profile - Provides more surface area for butters, ollies & nollies.