Home

/

DRAKE KING 2017 MENS SNOWBOARD BINDINGS - GREEN FLUO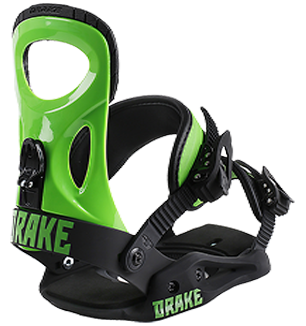 DRAKE KING 2017 MENS SNOWBOARD BINDINGS - GREEN FLUO
Stock Level:
Out of Stock
Out of Stock
Description
Packed with essentials, the King is a performance stylized binding with an entry level price for the aspiring shredders. Solid materials and engineering give our new riders a cost-efficient option to fall in love with snowboarding.
DELTA BASEPLATE: The Delta is the original Drake concept at its purest. With a pre-curved alu- minum heel cup directly connected to a nylon/fiberglass baseplate, this base- plate maintains flawless, solid assembly. Designed with the perfect blend of nylon and aluminum for responsiveness and dampening, collectively the construction creates a soft, forgiving baseplate ideal for beginners and free- style enthusiasts. It is fully customizable, and includes a variety of heelcups and toe ramp adjustments to ensure the perfect fit.
MFC ANKLE STRAP: Control and comfort in a simple but reliable structure.
MFC TOE STRAP: An established dual-density, comfortable, 3D shaped ankle strap that improves control in every condition.
MAC 4 BUCKLES: A fast and lightweight, aluminium ratchet for advanced performance.
CLASSIC DISC: The Classic Drake disc mounts on 4-hole and 3-hole patterns without a hassle. Don't waste time looking for ways to rig a custom stance. The classic gives you the option to personalize your Drake binding setup with any board.