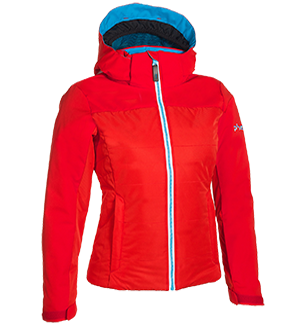 PHENIX LILY GIRLS JACKET - RED
Stock Level:
In Stock
In Stock
In Stock
Description
FABRIC: Diamond Dobby 2L (PE 100%), 2-way Stretch Taffeta 2L (PE 100%).
PHENIX 10,000mmH₂O MATERIAL TECHNOLOGIES: A high performance fabric developed through extensive researches. Phenix 10,000mmH₂O provides superior waterproof, windproof and breathability to keep us warm and dry under the harshest conditions.
2-WAY STRETCH: Stretch for Mobility and silhouette It's essential to stay warm and dry when you're on the slopes, but you also want superior mobility. Phenix incorporates lightweight, pliant materials in its outerwear to make sure your skiwear doesn't limit your movement especially in key areas around the arms, waist and knees. The high-performance 2-way stretch material employed in our tops and bottoms ensure your max-ed out Mobility. These stretch materials also give Phenix Skiwear a better Silhouette with beautifully graceful lines and sculpting.
3-D AIR CUTTING: By analysis, we realize that the new 3-D cutting technique well matches the modern ski style. Generally, most of the pressure of wear goes to your shoulder where you start feeling tired as soon as you put on any heavy gear. Thanks to this new cutting technique, about 85% Clothing Pressure of the wear exerted to the shoulders can efficiently be reduced so as to make you feel the way the wear is floating in the air instead of putting on you. You may even forget you actually are wearing it.
ERGONOMIC DESIGN: Carefully patterned by its R&D Center, Phenix's ergonomically designed ski wears give maximum freedom of movement.