Home

/

FLOW HELIOS FOCUS 2016 MENS SNOWBOARD BOOTS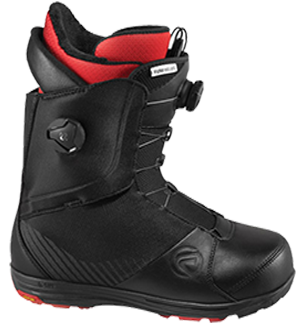 FLOW HELIOS FOCUS 2016 MENS SNOWBOARD BOOTS
Stock Level:
In Stock
In Stock
Description
NEXT LEVEL COMFORT WITH FOCUSED CLOSURE: The Helios Focus is set to push your level of riding to new heights; this is the snowboard boot for going bigger and riding harder. For anyone looking for Hylite-level performance but lives the couch surfer lifestyle, this boot won't break the bank. This softer yet responsive boot boosts a Boa® H3 Focus Closure System for upper and lower fit control and our 3 Feather moisture wicking liner with ripper lacing and internal harness that is sure to support at any level. The B.F.T. CONTACT outsole, designed in collaboration with Vibram®, also adds to this total performance package.
FEATURES: Boa® H3/M3-Focus Closure System - BFT Contact Vibram® Outsole - Venting Kush Insole - 3-Feather Liner - Ripper Liner Internal Closure - 3D Molded Tongue - Moisture Wicking Liner - Silvadur™ Antimicrobial Coating - SpaceBlanket Insulation - Support Rating: 7 (1 = softest/forgiving and 10 = most supportive/responsive in the Flow line).
THE BEST FIT RIGHT OUT OF THE BOX: We have spend over a decade of perfecting the fit and feel of our boots, using proprietary and anatomically designed inner and outer lasts that give our boots their renowned shape. A great fitting boot is crucial so you can ride more comfortably and longer, increasing the fun for a day on the hill. Put a pair on your feet and find out for yourself why Flow boots are being talked about around the world.
FLOW BOOTS WILL KEEP YOU WARM AND DRY ALL DAY LONG: The key to keeping your feet happy is a great fit, but also temperature and moisture control. We use a thermal insulating barrier between the outsole and liner called SpaceBlanket, to keep the warmth inside and the cold outside. And to regulate moisure and avoid smell, our liners utilize Silvadur materials to avoid sweaty feet and provide longlasting freshness.
DIALED IN WITH BOA: The BOA closure system provides custom comfort with smooth, even closure and no pressure points. Super easy to use, you get in and out of your boots lightening fast, and BOA reels offer an infinite degree of adjustability and on-the-fly micro adjustments with just a turn of the BOA dial. Once locked into place, BOA reels and laces stay that way, and the aircraft-grade stainless steel laces are both super light and incredibly strong. Gram for gram, the BOA lace is stronger than tank armor! All BOA components are guaranteed for life.
BAREFOOT FEEL FOR MORE CONTROL: BareFoot Technology (B.F.T.) is a combination of our collaboration with Vibram for our outsoles, and our proprietary OC-Kush dampening system, to ensure your feet stay happy and comfortable while transferring the maximum of power to your binding and board. B.F.T. outsoles are light, provide lots of traction, let your feet move naturally, give plenty of support and dampening, and let you stay in control of any situation wether it is a fast turn, a big landing or just walking across the slippery parking lot.