Home

/

DRAKE BATTLE 2016 MENS SNOWBOARD - 163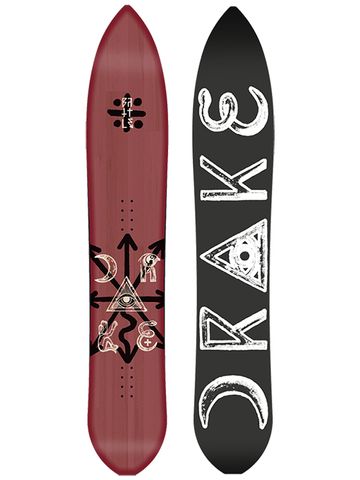 DRAKE BATTLE 2016 MENS SNOWBOARD - 163
Stock Level:
In Stock
In Stock
Description
A fighting demon that needs to be exorcised. Drake gives you all the means, now it's up to you!! It combines the most powerful features of the Guerriglia in something totally new. The extreme vario camber keeps you afloat in the deep powder and carries you through the chop with its subtly sleek, tapered frame that is built to rip…if you let it. The stick core is specifically designed to withstand high caliber riding. The final touch is comes from the Graphite base with which you can challenge the whole mountain. This board is for creative dudes who demand ultimate all mountain perfection to draw their lines.
POW CAMBER: Brand new camber-line with transition into nose and tail which adapts dynamically. It gives you the right confidence in hard turns and at the same time leaves the board playful and forgiving at low speeds. Amazing all-mountain camber, it helps you in the powder by lifting the nose out of the snow and it is awesome in flat tricks because it shortens the contact points on the edge.
DIRECTIONAL SHAPE: The tip of a directional snowboard is different from its tail. The tail is usually narrower, shorter, and flatter that the tip of the board. Stance is offset toward the tail of the board. These boards are primarily meant to be ridden in one direction.
PERFORMER CORE: Featuring top quality aspen wood that gives boards a light, flexible feel while remaining responsive and sturdy. This strong, durable core ensures immediate responsiveness in any condition.
SINTRA 8000 BASE: The finest P-Tex material grounded together with Nano carbon particles, heated, pressed, and then sliced to offer the fastest base in our collection. Nano additives hold heat, and then discharge. The process breaks the surface tension of snow and reduces friction. The result is an extraordinary running base with the highest level of wax absorption.
BIAXIAL FIBERGLASS: Biax Glass fibers are positioned at 90° off-axis to transmit soft torsional stiffness for an easy carving ride.
DETUNED EDGES: Our freestyle - jibbing boards come straight from the factory with pre-detuned edges on tip and tail. This prevents the snowboard from catching edges, and gives an extra buttery feeling while riding. If you're going to hit boxes, rails, or walls, this is the perfect feature for you!